---
Q2 Queens Waterfront Residences Phase 2
Q2 Queens Waterfront Residence is an upcoming waterfront Development by Ideal Property at Bayan Bay just in front of Queensbay. The whole project development 11 Acres, with 4 phases in Total.
This 2nd phase consist of 450 units.
Project Overview:
Project Name : Queens Residences Phase 2
Location : Bayan Bay, Penang
Property Type : Condominium
Total Units: 450 units(Second phase)
Indicative Price : From RM850/Sqft onwards.
Date of Completion: 2022
Developer : Ideal Property Group
As of now, Q1 and Q2 Reclamation has been completed.
Queens waterfront Residences masterplan: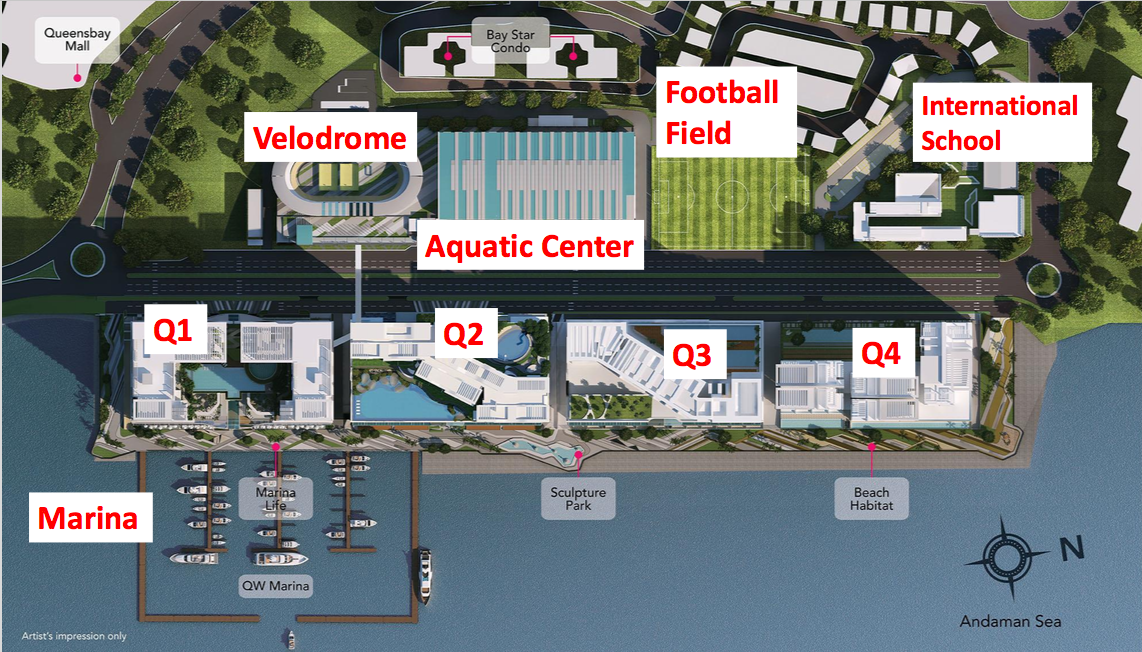 ---
The Building plan are as below:
---
Q2 Floor Plan
There are 5 layout in total, with some minor differences between Q1 layout.
Type A1: 950 sqft. 2 Bed+ 2 Bath
Type B 1000 sqft typ: 2 Bed + 2 Bath
Type B1: 1000 sqft (Dual Key)
Type C: 1200 sqft typ, 2 Bed + 2 Bath + study area
D: 1400 sqft 3 bed + 2 Bath
Type E1: 4 Bed + 3 bath
---
Developer will provide free timber flooring on bedroom for 1200 sqft and above. Thanks to previous project feedback, developer has created additional choice for 1000sqft where customer can choose to turn to Dual Key or 1 unit easily.
Facilities Available:
By referring to world class design all over the world, the facilities has improve even more as compare to phase 1.
---
Q2 Packages:
Complimentary Kitchen(Signature kitchen cabinet and table top)
Complimentary Wardrobe for all bedroom.
Complimentary Washing area utilities
Complimentary A/C on all room.
Free SPA
Free Legal
Rental Subsidy Available (to be reveal upon PM)
Freebies:
A/C included
Grill Door included
Documentation fee included
Carpark included
HOC campaign entitled
On top of that, customer are able to opt for bare unit, and in return enjoy additional price discount as high as RM140,000 off. **ONLY FOR MALAYSIAN
For Foreigner, the only options you can go for is furnishing package which includes Branded Kitchen cabinet by either Signature Kitchen or Verra Kitchen, Wardrobe, Heater etc.
Verdicts

:

WHY Queens Waterfront?
Cheapest PSF among Penang Island WaterFront project Up to Date.
Future Capital Appreciation given there's 4 phase in total.
Water Taxi available in future to drop off between Strait quay, The Light and Queens Residence
Future Event Location held on exhibition and football field which will bring up the community surrounding
Walking area only to Penang Biggest Shopping Complex.
---
Interested prospect are more than welcome to contact us via link.
OR
PM our facebook Fan page to get in touch.
OR
Drop a message to one of our Agent, 017-4588547 Mr Yew to schedule exclusive showroom visit appointment.
---
Why Engage PropXpress?
0 Agent Fee
Developer Appointed Marketing Agent
Value added Full Fledge service
Good Relationship with Banker and Developer
Renovation Expert Consultant