Celesta Residence Sg Nibong Penang
After Pearl Ocean(Prisma BumiRaya) and Sepakat Mewah launched their own project in the Sungai Nibong Masterplan, Red Blue Development Sdn Bhd has finally made it's move and launch Luxury and Affordable House Name Celesta Residence. Strategically located along Jalan Sultan Azlan Shah, diagonally opposite three public schools, namely SRJK(C) Kwang Hwa, SRJK(C) Shih Chung and SMK Sungai Nibong. It is sitting next to The Sun @ Sungai Nibong mixed and walking distance to the proposed Sungai Nibong LRT station.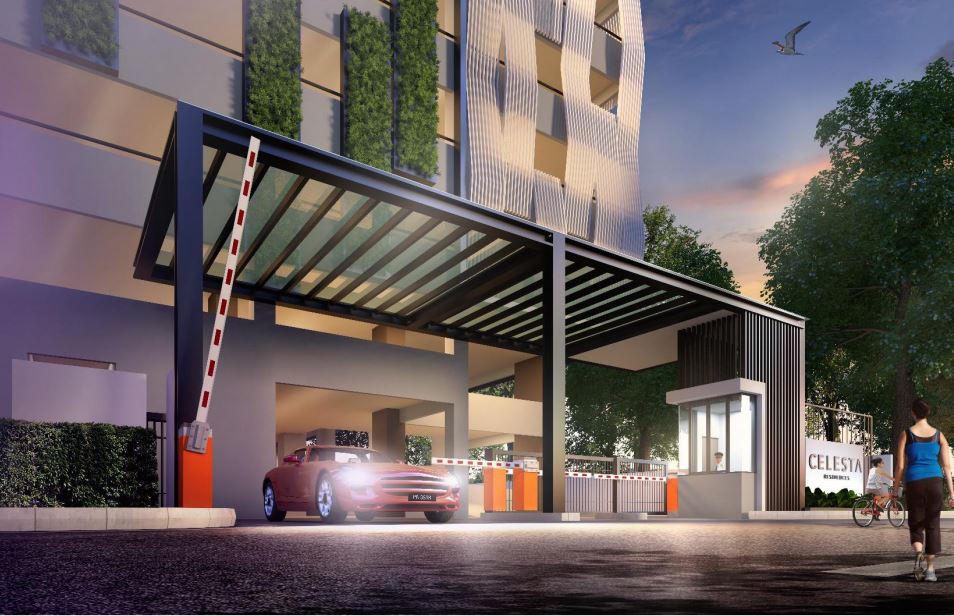 ---
Project Overview:
Project Name : Celesta Residence
Location : Sungai Nibong, Penang
Property Type : Mixed development
Total Units: 89 (condo), 2 (semi-d), 3 (shop offices)
Built-up Area: 850sqft, 1250sqft, 1650sqft and 2100 sqft(Penthouse).
Indicative Price: RM830k+ for 1250sqft.
Developer : Red Blue Development Sdn. Bhd.
Expected Completion Date: Q4 2022.
---
Celesta Residence Location
---
Sungai Nibong Masterplan.
---
Celesta Residence Site Plan
---
Celesta Residence Sungai Nibong Penang Layout:
Focusing on Luxury Living, Celesta Residences Offers 1250sqft, and 1650sqft up for people to grab.
Sadly to say 850sqft is currently under developer allocation and very limited unit for grab. If you are interested on affordable housing PLEASE contact appointed Marketing Agent Below for the priority que.
1250sqft: Type C/C1 –> 3 bed +2 bath + 1 Utility room
Type C and C1 differences are only at the Entrance area.
1650 sqft Type B/B1: 3 bedroom 3 bathroom. Dual-key able.
Type B and B1 differences are only at Entrance.
2100 sqft: Penthouse 5 Bedroom 4 bathroom.
Celesta Residences Facilities Area Site Plan:
Celesta Residence contain 3 level of Facilities despite Low Density.
---
Celesta Residence Packages and details
Free Legal and Loan
Price Range from RM830k onwards
Maintenance Fee: est RM0.33 psf /mth (Accessory parcel that comes with unit are varies and maintenance charge could differ unit to unit)
Free Min 2 to 3 carpark.
Free A/C ( 4 to 5 units)
upto 10% Rebate
Additional subsidy available on certain unit which to disclose in detail upon appointment.
Free MOT stamping( under HOC campaign) ** T&C apply
Attractive Interest Subsidies.
---
Virtual showroom tour. Click here
---
Future SG Nibong LRT
---
Verdicts:
Celesta Residences aims to become the one of the few Luxury Condo with LOW Density within Sg Nibong Township. The layout are targeting family oriented with spacious kitchen, which the utility area are able to convert and separate Dry and Wet Kitchen altogether. The location is so strategic, as surrounded by multiple school and easy access to highway thus to Industrial Zone where 80% of the Pgnites work here, not to mention additional point future LRT station. Everything is impeccable except for the pricing as smallest unit 850sqft starting price point @RM560k+, 1250sqft @ 830k+, and 1650sqft @ 1.1mil+. But Hey look at the bright side, this is the price premium you paid for Super Low Density project at one of the MOST strategic, MOST wanted location within Penang Island.
Interested Candidates may approach us for more details.
---
For more information, kindly drop your enquiry here.
OR
PM our facebook Fan page to get in touch.
OR
Drop a message to Developer Appointed Marketing Agent, 017-4588547 Mr Yew to schedule exclusive showroom visit appointment.
---
Why Engage PropXpress?
0 Agent Fee
Developer Appointed Marketing Agent
Value added Full Fledge service
Good Relationship with Banker and Developer
Renovation Expert Consultant